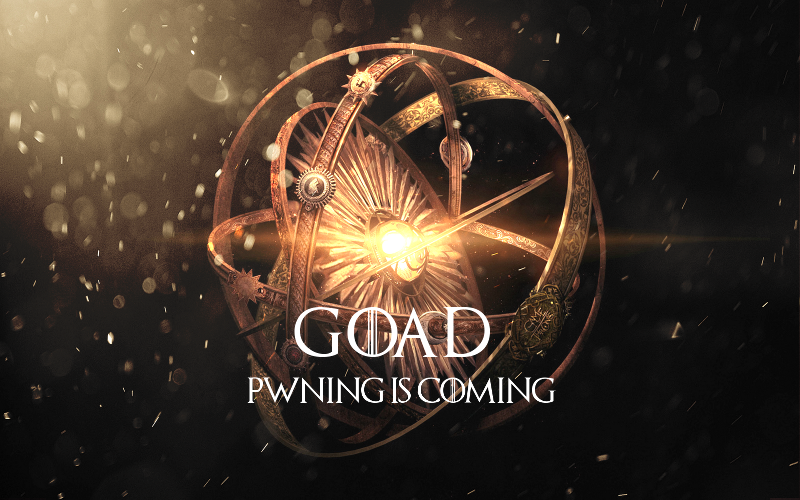 The second version of Game Of Active directory is out! https://github.com/Orange-Cyberdefense/GOAD
I spent months to setup this new lab, with a bunch of new features and the result is finally available.
With this new lab i worked to add the following features:
Multi domains and multi forest:

Now there is child/parent domain with sevenkingdoms.local and north.sevenkingdoms.local
A separate forest as essos.local to train the forest to forest technics

IIS :

An IIS server is available on castelblack.north.sevenkingdoms.local with the ability to upload asp to get a shell

MSSQL :

Two MSSQL servers are now available, one in castelblack.north.sevenkingdoms.local and another on braavos.sevenkingdoms.local
The two servers are linked to test MSSQL trusted link.
Impersonation configuration are also set up on the MSSQL server

Anonymous user listing:

An anonymous user listing is now available in winterfell.north.sevenkingdoms.local

ADCS :

One of the biggest improvement of v2 with the multi domains is that an ADCS server is available on essos.local and with miss configurations to try at least esc1 to 3 and esc8.
An otherview of the lab can be resumed with this chart: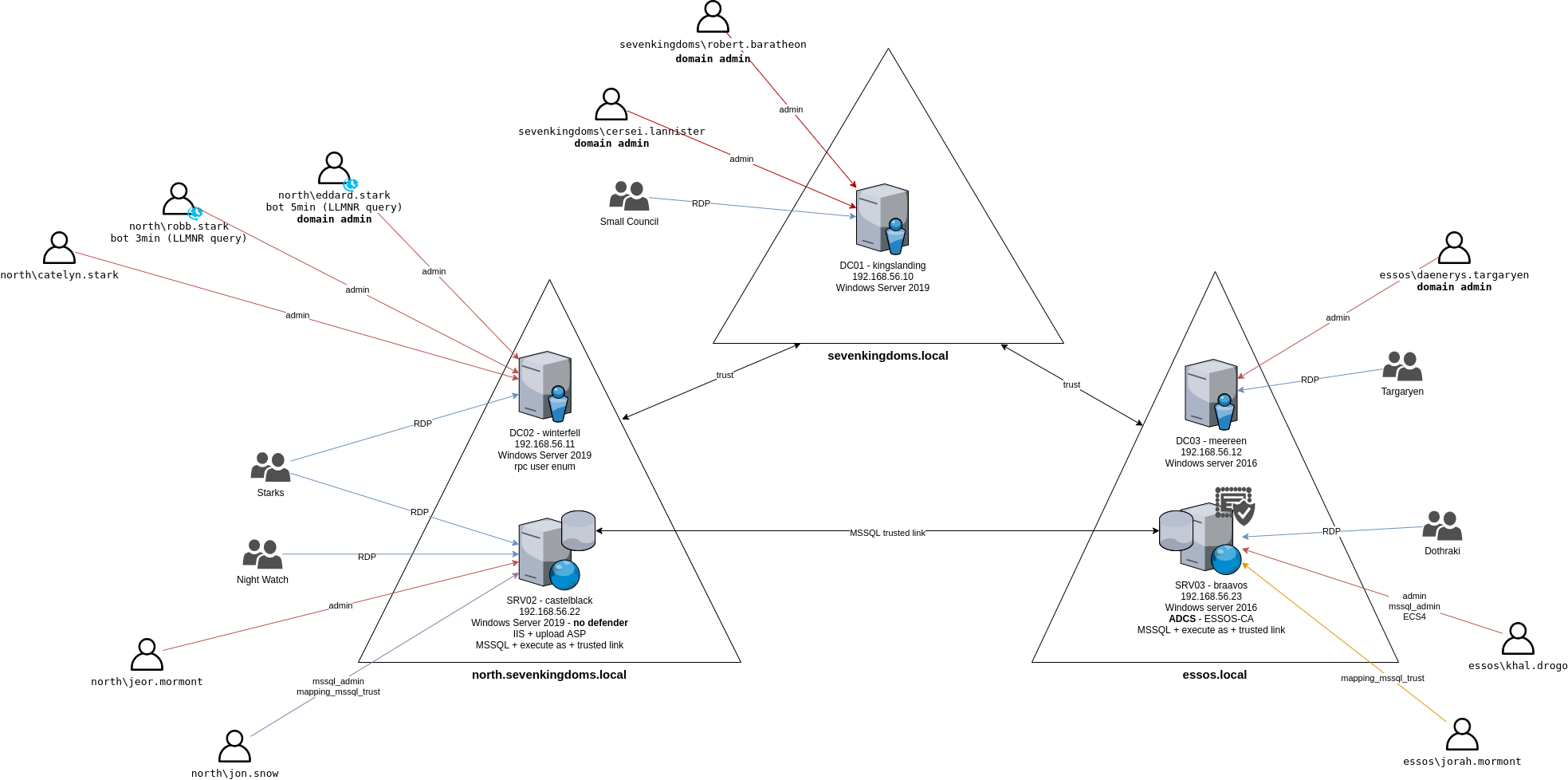 The global technics available on the lab are:
Password reuse between computers (PTH)
Spray User = Password
Password in description
SMB share anonymous
SMB not signed
Responder
Zerologon
Windows defender
ASREPRoast
Kerberoasting
AD Acl abuse (forcechangepassword, genericall, genericwrite,…)
Unconstraint delegation
Ntlm relay
Constrained delegation
MSSQL exec
MSSQL trusted link
MSSQL impersonate
IIS service to Upload malicious asp
Multiples forest
Anonymous RPC user listing
Child parent domain escalation
Certificate and ldaps avaiable
ADCS - ESC 1/2/3/8
Certifry
Samaccountname/nopac
Petitpotam unauthent
Printerbug
Drop the mic
Shadow credentials
Printnightmare
Krbrelayup
…
I will details those on various blog post writeup on the GOAD lab exploitation.
Installation
First you need a big computer to get the lab up and running. Mine is a 8cpu/32Go RAM.
Maybe a 4CPU/16Go could be enough but I am really not sure about it as there is 5 windows VM to launch!
| | |
| --- | --- |
| 1 | git clone https://github.com/Orange-Cyberdefense/GOAD.git |
We start by launching vagrant to get all the vms and let vagrant provide them
Once we get all the vms up and running it's time to provision them with ansible
We install all the needed packages and launch the main.yml playbook
1
2
3
4
5
6
7
8
9


sudo 

apt 

install 

python3.8-venv


cd 

ansible
python3.8 

-m

 virtualenv .venv


source

 .venv/bin/activate
python3 

-m

 pip 

install

 

--upgrade

 pip
python3 

-m

 pip 

install 

ansible-core

==

2.12.6
python3 

-m

 pip 

install 

pywinrm
ansible-galaxy 

install

 

-r

 requirements.yml
ansible-playbook main.yml

If there is error we just re-launch ansible-playbook main.yml until there is no failure during the installation.
Lab running
We check the lab with cme
| | |
| --- | --- |
| 1 | cme smb 192.168.56.0/24 |